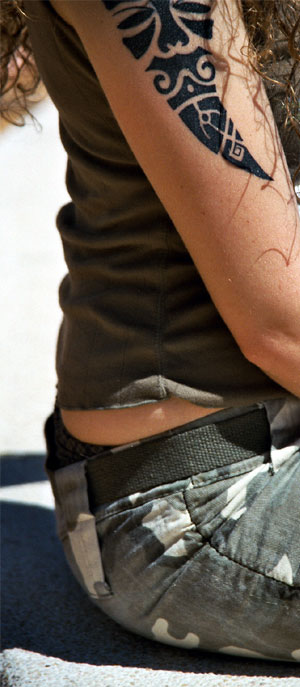 Whenever we talk about body art or body art fashion, tattoo fashion is something that comes first to our mind. Though getting a tattoo done is quite painful, it is one of the most popular body fashions in vogue today. The new generation believes in the theory "No compromise with fashion". Thus tattoos are in fashion even if they are painful.
Tattoo fashion was earlier was considered fit only for the biker gangs and sailors. But today they are popular with the people of every age. It has achieved special popularity in the teen community. Both men and women are sporting tattoos and these days you will get to see all the types of tattoos you can imagine. The tattoo fashion is at its height.
For those people who like tattoo fashion but don't want any permanent art on their body can go for the temporary tattoos. One can get it done with simple paint and brush or can opt for a much paid airbrush artwork done with waterproof colors. This colors fade off with the time. It hardly lasts for a week or two.
There are many different tattoo fashions; some of them are listed bellow:
Tribal Tattoos
Chinese Tattoos
Zodiac Tattoos
Bands Tattoos
Belly Button Tattoos
Hearts, Suns and Flowers Tattoos
Creature Tattoos
Clubbing Tattoos
Celebrity Tattoos
Maori Tattoos
Celtic Tattoos
Fairy Tattoos
Dragon Tattoos
Butterfly Tattoos
Football & Flag Tattoos
All the above-mentioned tattoos generally remain in regular tattoo fashion, but at present the mostly viewed tattoos are Celtic tattoos, Chinese tattoos, Belly button tattoos, celebrity tattoos, dragon tattoos. In the recent times, the most popularly sported tattoo fashion has been the Zodiac tattoos. People are wearing their sun sign with an attitude.
Tattoos fashion is really sassy but the person with the tattoo also must also have the attitude to carry it. One must go for a tattoo that ideally suits his or her personality.
Sportsmen like Mike Tyson and David Beckham have brought the tattoo fashion back in vogue. Many people prefer to get a tattoo done with the name of their spouse or loved one, just as David Beckham got one on his left forearm.
The highest segment of any population sporting tattoo fashion is college-going students. Many face parental objection or genuine health or skin problems. In such cases they opt for temporary tattoos. But having a tattoo is must with fashionable youngsters today.