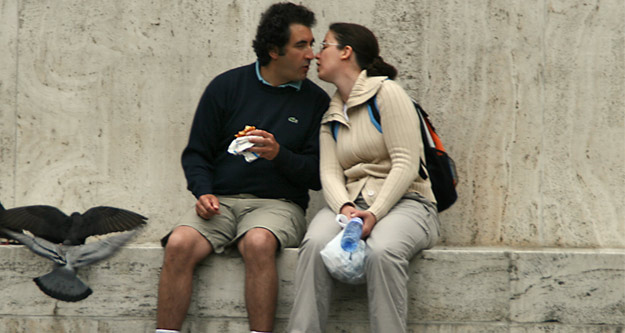 When you have been married for a very long time, there is every chance that wonderful spark of attraction might take a back seat at some point or the other. The reason for that lost romance could be anything. Usually it is responsibility, stress and worry that are the three major factors for replacing love, excitement and pleasure. However, you do not have to keep things that way. You have every reason for rekindling romance in your marriage. Take things under control, make some time for your partner and be prepared to put in some effort. Follow these simple tips for rekindling that lost romance in your blissful marriage.
5 Tips to bring back the Lost Romance in Marriage
Follow these simple tips to bring back excitement and romance in your marriage:
1. Go on a Second 'First Date':
Well, a first date is something that a person will never forget. And, first dates are always memorable. So, if possible, recreate your very first date with your partner. Bring back all those romantic and glorious memories. Take your sweetheart to the exact same place where you first went on a date. If going to the same place is not possible, try other options that almost resemble your first date place. Try to have as much fun as possible. Be romantic, be foolish.
2. Love Letter:
Write a super-romantic love letter to your partner. But, make sure you write it in style. Instead of writing it on a piece of colored paper, try to write it on a string textured paper, as in handmade paper, or even on a nice piece of parchment. And, instead of a pen, write with a fountain pen, or even better use a quill. Pour your feelings out. You can write nice poetry, or share some of your special moments. Go ahead and write down anything in the letter that you want to share with your partner. The next step is to place this letter in a pretty envelope and firmly seal it with wax. Place this letter either on your partner's pillow, or another very special place where your partner is sure to find it. Your partner will appreciate the gesture and the effort you put in.
3. Steamy Hot Tub Bath:
Make things a little naughty! What can be hotter than a steamy bath together? Arrange for a sweet-scented bubble bath for the two of you. Top it up with aromatic candles, chilled champagne or wine. Well, this sure does make for a very romantic ambiance. Near your tub, set a few fresh bathrobes and towels. Once you are in the tub, do anything that you like. Talk to each other, snuggle up, relax or carry forward your romance to the bedroom.
4. Surprise, Surprise:
Everybody loves surprises, and when in relationships, it is very important to give tiny little surprises once in a while. This is because it helps to keep the romance alive. Buy a simple spontaneous gift for your partner, as it will show that you love and care about them. Get your partner a romantic gift, arrange for a surprise romantic dinner or go for a nice holiday. Make your partner feel special, just like your initial days.
5. Make Them Feel Special
Give your spouse special attention. You can start giving them cute nick names, just like old times. Call them up at work, and find out how they are doing. Keep sending romantic cards over email. If possible, pick them up from work and go out for a nice calm dinner, or simply go for a movie. Bring that passion back by making your partner feel special, with in no time, it will definitely be reciprocated.
With these simple tips and gestures, it is very much possible to bring back romance in marriage.