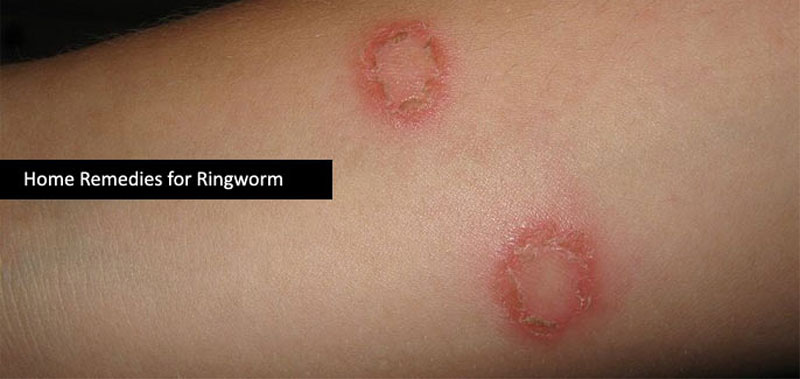 Ringworm is a common skin disease, caused by fungus. It is not very dangerous, but very annoying. People suffering from medical problems such as diabetes, leukemia, or AIDS and who have a weak immune system are more susceptible to ringworm. Dampness, humidity, dirty and crowded areas also increase the risk of acquiring ringworm.
Although it may take a few weeks for ringworm to completely disappear, you are advised to see a doctor if you develop increased pain, fever, swelling or redness.
Scalp Ringworm
It is a different kind of fungal infection which is much more serious. It is most commonly found in humans and pet animals like cats, dogs and cattle. It can be acquired through an infected person, or infected hair or by sharing accessories like hats, comb, bedding, barber's instruments etc, with an infected person.
Doctors usually recommend shampoos containing ketoconazole (Nizoralicon), pyrithione zinc (Selsun Salonicon) or selenium sulfide (Selsun Blueicon) twice a week. But, apart from these shampoos, ask your doctor to prescribe some oral medicines, as they are more effective.
Body / Face Ringworm
Ringworm patches on the face and body are usually round or oval. There is itching, redness, and swelling (sometimes).
There are several remedies to treat ringworm on the body and face. Some of them are:
Soak a cloth or paper towel with natural apple cider vinegar and apply it on the ringworm for about 15 minutes, several times a day.
Raw papaya is also good for treating ringworm. Rub some slices of papaya on the ringworm patches. A paste made of dried papaya seeds can also be applied on the ringworm patches.
Mustard Seeds are also good. A paste of mustard seeds should be applied over the patches after afte washing the skin with hot water.
Butea Seeds can also be used for treating ringworm. Make a paste of Butea Seeds and mix with a little lime juice. Apply the paste to the affected skin.
Cassia Leaves are known to eliminate the pain and swelling associated with ringworm. The juice of cassia leaves or a paste can be applied to the patches.
The leaves of holy basil are also useful for treating ringworm. Extract the juice and apply on the patches.
Take 1-2 pieces of garlic and mash them in an small sheet of aluminum foil. Take the sheet with mashed garlic and apply it on the ringworm. Do this two times a day. It might sting, but the ringworm will be gone in less than a week.
Turmeric is also very effective for ringworm. Apply the juice of raw turmeric to the infected parts. And you can even take a mixture of turmeric juice and honey orally.
Raw vegetable juices, like carrot juice ( 300 ml) mixed with spinach juice (200 ml), taken internally is also beneficial for ringworm.
You can also use sea salts to dry up the ringworm patches. Buy some bath salt from a drug store, which has high concentration of sea salt in it. Wet the infected parts and apply the sea salt scrub directly to the ringworm. There is mild tingling, but it wont irritate a lot. Leave the salt for about 25-30 minutes and then wash off. Re-apply it after some time. Mist the infected part with water to moisten the skin and re-wet the salt. Ringworm will be gone in a few days.
You can also apply Iodine on the ring worm. Apply it for a few days till the ringworm is gone.
Grapefruit Seed Extract (GSE) is also very good for treating ringworm. It is not very costly and usually comes with 50% glycerol, which is good for all kinds of skin problems such as acne, dandruff and other fungal infections. Rub some extract on the patches, and put a band aid over it. Full strength extract of grapefruit will irritate the skin slightly, but is a quick remedy for getting rid of ringworm.
Frequently rub some vinegar onto the skin if you have ringworm re-occurring from time to time. Or take a penny and soak it in vinegar until crystals begin to form. Take the penny and band aid it to the ringworm for 2 days. The ring worm will be gone.
Juice of fig leaf is also effective for treating ringworm. Break a leaf and rub the white juice on the ringworm and around it. Repeat the procedure until it is gone.
Take some Green walnuts. and cut open them. Rub the juice on the affected area.
Tea tree oil also works wonders for ringworm. Apply a few drops of tea tree oil to the affected region every day. If it itches, mix a few drops of tea tree oil with some mild oil like coconut or olive oil and apply.
You can also use Myrrh Essential Oil, Peppermint Essential Oil, Geranium Essential Oil or Lavender Essential Oil. The most commonly used oils for children are tea tree and lavender. Never use peppermint oil on kids. For babies up to 12 months, mix a drop of Lavender Essential Oil in a teaspoon of Jojoba Carrier Oil and apply on skin.
Or you can buy the following from a drug store /walmart near your home:
Desiten diaper ointment: Apply it to the patches three times a day.
Lamisil Cream: It is very good for ringworm and athletes foot.
Mercy Cream: This is a herbal cream that costs around $2.00. It is made in Ghana, so you may find it in an African market.
Blue star ointment: You can buy it from Walmart, it works wonders. Apply it a few times every day.
Tinactin or some other anti-fungal cream: Put the cream generously on to a band aid and apply on skin. Don't remove for 6 hours. Replace after every 6-7 hours.
Clotrimazole: It is also used for athletes foot, but works for ringworm as well.
Lotrimin AF Antifungal Cream, Dial Antibacterial soap: After washing the face with the Dial Soap, apply the cream 2 times a day. But your skin becomes dry due to Lotrimin Cream, you can use Nivea moisturizer to overcome the dryness.
Micatin Antifungal Liquid Spray: Use twice a day on the rash and around it . Successful treatment may take 3 to 4 weeks.
Here are some wacky remedies. You can try these if all the above remedies do not work but with great caution:
Some people get benefited by applying a bleach. But if your skin is sensitive or becomes red on application, do not use it. Apply bleach (Clorox bleach) with a Q-Tip. It dries the patches. Use original clorox type bleach that contains only sodium hypochlorite and water. It is safe for use on human skin. Mix 1 Part Bleach with 6 Parts Water and apply on affected area for 15 seconds. Using diluted bleach prevents chemical burns and stinging. But make sure that the affected area is not bleeding or open.
Clear nail polish can also be used. Apply the nail polish to the infected area everyday, until it is gone.
Take some tobacco, wet it and put it on the infected area. It will help dry the patches.