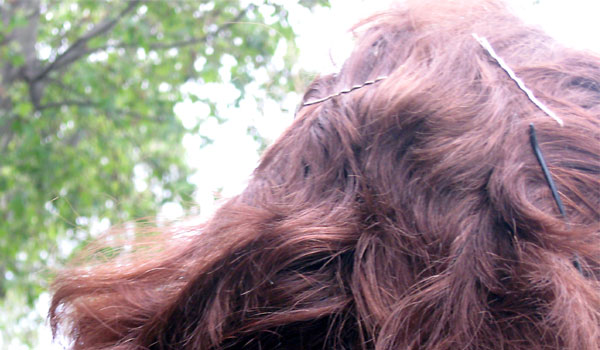 Have you ever wanted to wear hair clips out, rather than using them as a tool to put your hair up during styling? If you go into any beauty supply store, you'll notice hundreds of different clips to use – for all sorts of events. For example, if you plan on being a bridesmaid for an upcoming wedding, your dress must be pink – therefore you'll need matching accessories. In this case, you can get a few pink heart clips, butterfly, or even fancy flower clips. Some of these even have dazzling faux rhinestones on them which make it stand out more. Clip a few of these on the sides of your hair and you will definitely look elegant.
The first thing you'll need to do in order to wear a regular four to five teeth hair clip is decide on where you want it. Most women wear their hair clip on the side, back, or the bottom area of the hair – as if to imitate a bun. Let's pretend you want you're to use your favorite blue butterfly clip with your matching white blouse and skirt. Take your hair, parting it down the middle carefully. Be sure to comb from the very ends, ridding of any tangles you may have. Go ahead and clip in the butterfly directly on the side of your head, making sure it goes up high. This way people can see it in a better way.
In case you do not have a regular clip in comb, you can always use the fancy pins. You might find these to be easier because it involves sliding them in through a thicker piece of hair. Most of the pin designs are generally smaller with elegant designs on them. They come in all assorted colors and can cost anything from $5 to even $100. But usually, the more expensive ones may have real diamonds or some other type of stone you could flaunt. Generally, it's a good idea to use the cheaper ones because in case you lose it – it won't be wasted money for you. These pins often stay in, even if you pull on them so the chance of them falling out is very rare.