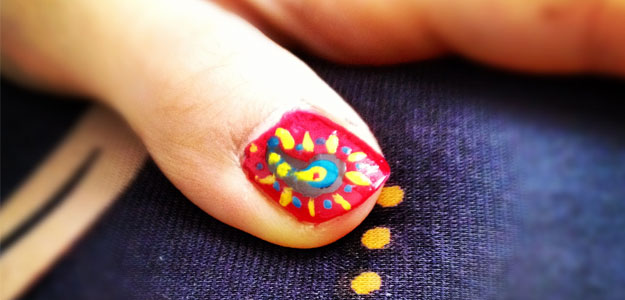 Nail design is nothing but tiny pictures, pretty flowers, jewels, charms, or any other painted design. After a neatly done manicure, nail design is the perfect way to enhance your nails. You can stick to simple designs or more charming and extravagant ones. Nail designs are commonly done at a beauty salon. If you want to save up on that extra cash, however, you can try doing it at home, provided you get the right materials.
Tips for Nail Design at Home:
Follow these simple tips to give that additional bling to your nails:
The first step is to consider the length of your nails. If you have long nails, clean and shape them as desired. If you have short nails, you may consider putting on artificial nails of you desire that added length
The next step is to choose a nail design. If you like being creative, nail design is a great opportunity to express yourself, or you can also browse through the Net for nail design ideas
Before you can create your nail design, apply a thin layer of base coat. Once it dries, select a nail color or different nail colors of your choice and apply them to the nails. After each coat, allow them to dry till you apply the next coat. Once all the coats are dry, your nails are ready for the design
You can either purchase a nail art brush at a beauty store, or you can also use household items such as hair pins, tooth picks, or a pointed nail brush. These will help you create detailed effects, and they are very useful for designing the nails
Always start with simple and easy designs. For instance, you can paint a pretty flower with studs in the center of the "petals". With the help of a tooth pick, place consistent dots in a circle. In the middle, you can either put a small stud-like stone, or you can put a dot of different color. Another simple design is to put stripes across the nails
To add more bling to the design, you can add glitter, lace, metallic polishes, rhinestones, etc
If you end up making a mistake, with the help of Q-tip and acetone nail polish remover, gently remove the excess polish
Once you are done with designing all the nails, apply a thin layer of clear top coat. Once it dries, apply another thin coat. This will help the nail design last longer
Now you have amazing nails with a pretty nails design.