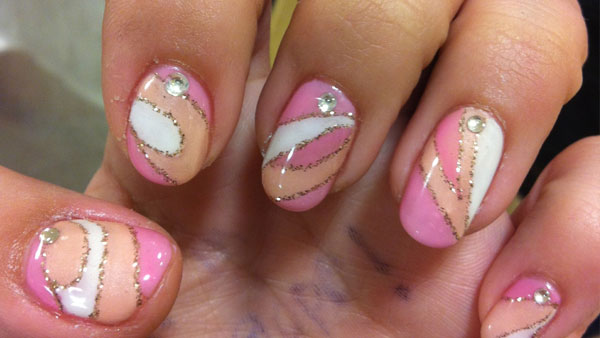 Fiberglass nail wrap is considered to be the most popular. It is considered to be the best because it not only gives the silk wrap's natural look but also the linen wrap's strength. So, basically you can consider it as two-in-one. If you have short and stubby nails, you can get a fiberglass nail wrap to fill the void of long beautiful nails. It is easy to apply fiberglass nails.
Steps:
If you want to apply fiberglass nail wraps, then follow these simple steps.
Use a nail polish remover to remove any nail polish on the fingernails. Also, make sure to use a nail buffer to get rid of the oil on the nails. But, care has to be taken that you don't overdo it, because over-buffing can cause damage to the nails by thinning them and hinder the nail growth
Put on a nail primer in order to make the natural nail bed dry. Apply it as per the instructions
Now, to the natural nail put on the acrylic nail tip. This can be done with the help of glue. Once it is applied, you can trim the acrylic tip to get the desired length
Use a nail buffer to make sure it is flushed with the nail bed. But, make sure that you do not over do the buff
Now stick the fiberglass nail wrap to the nail, making sure that it covers the whole of the nail bed. If there is any extra fiberglass, use scissors to cut the excess
Ensure that the fiberglass nail wrap does not touch the skin or the cuticle on the side of the nail
Over the fiberglass nail wrap brush over the sticker, making sure that you do not touch the cuticle or the skin. Over this, spray a tinge of kicker so that it quickens the hardening process
Once you apply the sticker and kicker, buff the nails in order to put on the sticker and kicker again
Repeat this process for about three times. More than that would just make the nails way too thick
To give that final touch, buff the nails and shape them accordingly. You can also polish them
Fiberglass nail wraps are popular because they prevent nail fungus and bacterial infections. Not just that, they also allow oxygen supply to the natural nail bed. This nail wrap is both beautiful, because of its natural look, and strong.