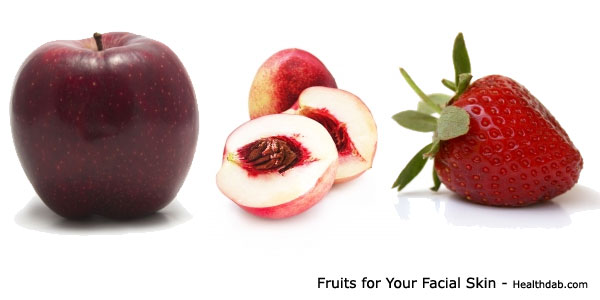 Fruits have always been an effective ingredient for our skin. Different fruits suits different skin types. Natural fruits keep our skin healthy in many ways. Some of them are a good scrub, whereas some provides excellent moisturizer to your facial skin. So let's find out top 6 fruits for our skin.
Apple: Apple is useful in treating acne and boils. It is a good source of fiber and keeps your system clean and healthy. Consuming apples in a regular basis can reduce wrinkles and lines.
Strawberry: Strawberry has a high rate of water content. It is a good scrub and a very good option to heal sunburns. Strawberries are rich in vitamin C and flavonoids which helps to fight cancer.
Peach: Peach is very useful in preventing early aging. It has a rich content of flavonoids and potassium which helps in revitalizing and hydrating the skin.
Papaya: Papaya is a very good source of Vitamin A. It is very useful and effective in removing dead cells and leaves an overall hydrated skin.
Watermelon: Watermelon contains of 90% water. It can be used as a quick cooling. Watermelon rejuvenates and hydrates our skin to a great extent.
Apricot: Apricot contains beta carotene that fights with all kind of skin problems. It is a great help to those who have a dull and lifeless skin. Apricot is also good for soothing sunburns.